Jake was a great competitor and I couldn't wait to see him in the next episode of top shot each week. He was the main reason that I kept watching the show. Jake,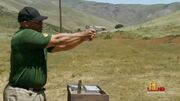 I wish you the best of luck in any endeavor that you tackle and thanks for your service to our country. Have a great life my friend.
Thanks for making this the best Top Shot season ever.
Ad blocker interference detected!
Wikia is a free-to-use site that makes money from advertising. We have a modified experience for viewers using ad blockers

Wikia is not accessible if you've made further modifications. Remove the custom ad blocker rule(s) and the page will load as expected.