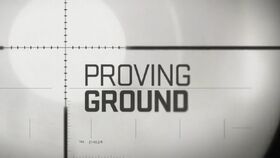 The Proving Ground is the shooting range where the contestants of the Elimination Challenges are decided during Season Five. It took the place of the Nomination Range in previous seasons of the show.
Each week, after the first challenge, the bottom contestants meet at this range where host Colby Donaldson presents them with a new challenge. The contestants that end up in the bottom, usually the farthest from the bullseye, are sent to that week's Elimination Challenge.
Ad blocker interference detected!
Wikia is a free-to-use site that makes money from advertising. We have a modified experience for viewers using ad blockers

Wikia is not accessible if you've made further modifications. Remove the custom ad blocker rule(s) and the page will load as expected.