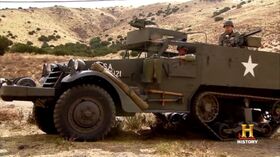 The M2A1 halftrack is an armored vehicle used during World War II. It has appeared on Season Four and Season Five of Top Shot.
During the Season Four episode "Have Machine Gun Will Travel", contestants had to fire a Browning M1919 machine gun, while mounted on a moving M2A1 halftrack.
The M2A1 halftrack was brought back for Season Five in an Individual Challenge similar to the one on Season Four. The five remaining contestants had to use the M1919 Browning machine gun while aboard the M2A1 halftrack to fire at 15 targets along a course with a maximum of 100 rounds. Targets ranged from 12 to 25 inches in size and were placed at distances up to 100 feet.
References
Edit
Ad blocker interference detected!
Wikia is a free-to-use site that makes money from advertising. We have a modified experience for viewers using ad blockers

Wikia is not accessible if you've made further modifications. Remove the custom ad blocker rule(s) and the page will load as expected.