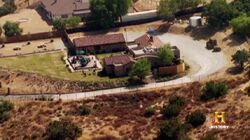 The Top Shot house is the residence where the Top Shot contestants live during the course of the filming of the show. The house is located in Santa Clarita, California.
The house is a two-story house, with several rooms. It offers the contestants several amenities like weights and exercise machines, a pool table, a poker table, a deck, and others.
Contestants can't leave the house, except for the show challenges.
Ad blocker interference detected!
Wikia is a free-to-use site that makes money from advertising. We have a modified experience for viewers using ad blockers

Wikia is not accessible if you've made further modifications. Remove the custom ad blocker rule(s) and the page will load as expected.