Heckler & Koch HK93
Type
Appearances
The Heckler & Koch HK93 is a German rifle introduced in 1974. It has been used on Season One and Season Five of Top Shot.
Season One
Edit
Season Five
Edit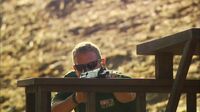 The Heckler & Koch HK93 was brought back for one of the challenges of the Season Five finale: "Last Man Standing", along with the Glock 19, the Mosin-Nagant, and the SVT-40. In it, the marksmen had to run uphill to a series of 4 elevated platforms, using a different weapon to shoot a target at a certain distance. On the second platform, shooters had to use the HK93 to shoot a target at 100 yards.
References
Edit
Ad blocker interference detected!
Wikia is a free-to-use site that makes money from advertising. We have a modified experience for viewers using ad blockers

Wikia is not accessible if you've made further modifications. Remove the custom ad blocker rule(s) and the page will load as expected.