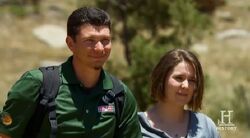 Brittany Ellermann is the wife of Top Shot Season Three winner, Dustin Ellermann. Brittany appeared in the Season Three Finale, along with Mike Hughes' wife, to watch their respective husbands compete in the Final Challenge.
Dustin and Brittany live in Zavalla, Texas with their three children.
Ad blocker interference detected!
Wikia is a free-to-use site that makes money from advertising. We have a modified experience for viewers using ad blockers

Wikia is not accessible if you've made further modifications. Remove the custom ad blocker rule(s) and the page will load as expected.