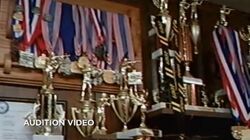 An audition video is a video prepared by each aspiring contestant to Top Shot to showcase their shooting skills, or simply introduce themselves to the production team.
The audition video is submitted along with an application form. The producers then choose a group of 50 possible contestants that are invited to a personal audition. The group is finally narrowed to 16 (or 18 in Season Four) that will appear in the show.
Examples of audition videos
Edit
References
Edit
Ad blocker interference detected!
Wikia is a free-to-use site that makes money from advertising. We have a modified experience for viewers using ad blockers

Wikia is not accessible if you've made further modifications. Remove the custom ad blocker rule(s) and the page will load as expected.